Low Temperature Brittleness/Flexibility Test Chamber (CFC free)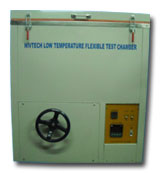 This equipment is designed for testing of different types and methods related to Rubber, Rubber products and all Industrial allied products. The ultra low temperature treatment test can be done in this Cryostat chamber. Testing can be carried out as per IS 3440, ASTM D-751/2137 (Method B) and many more test methods used for cold test. The chamber maintains a uniform atmosphere of cold dried air at specified temperature. The equipment model no. as follows.
| | | | |
| --- | --- | --- | --- |
| Model No. | Volume | Size (W x L x H) | Temperature Range |
| NIVTECH - LRB1 | 93 Liters | 18"x 15"x 21" | Ambient to (-) 50°C |
| NIVTECH - LRB2 | 93 Liters | 18"x 15"x 21" | Ambient to (-) 70°C |
Trigger Gun:

The above equipment has available with Trigger Gun to test low temperature brittleness. The trigger gun is fully made of stainless steel as per ASTM - 2137 test methods. This trigger gun will give impact on test sample at low temperature. The trigger gun can fix on low temperature chamber, and it can operate from out side of the chamber without disturbing the in side cold temperature.