Connectivity Products
VGA / AUDIO SWITCHER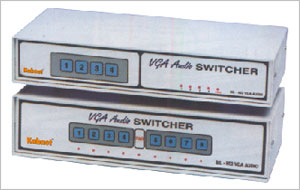 All the features of VGA switcher remains same. Unit supports stereo audio I/P and O/P. It is used as multimedia switcher which switches VGA and Audio simultaneously. One of the Audio and VGA output is gain controlled.

MODELS AVAILABLE :
1) ML 402 VGA Audio
2) ML 802 VGA Audio
3) ML 1602 VGA Audio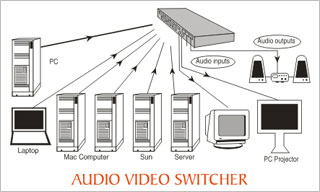 Kabnet " Audio Video switcher" is a 4/8/16 inputs and one output switcher that switches multiple inputs of Audio and composite video system.

FEATURES :

4 to 16 audio and video inputs. l Auto scanning mode or manual mode selection. l RS232C and contact closure remote control. l Front panel Keypad selection.

APPLICATIONS :

Projectors, conference rooms, Security system etc.


Kabir Technology Pvt. Ltd.
Redg. Office
B-103, Jainam Arcade, 1st floor,
Bhaichand Textile Mill Compound,
Above Union Bank, L.B.S. Marg,
Bhandup (w), Mumbai, INDIA 400 078