Vilas Engineering represents a business enterprise with strong commitment, foresight, technical expertise and on-time delivery. Our promoters have spent more than 3 decades in the pharmaceutical industry, which had helped Vilas Engineering carve an edge in this competitive pharma / biotech industry. We have successfully manufactured and supplied Nutsche Filter for various pharmaceutical companies.
Nutsche Filter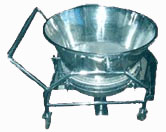 The function of filtration equipment is to filter slurry so as to separate the solid more or less completely from the liquid. In Nutsche filter force required for separation of filtrate is through gravity and vacuum. It is very useful to collect small amounts of solids from relatively large volumes of liquid.
Nutsche filter is a batch type filter and is versatile and flexible in use. It too can be used in conjunction with a wide range of filter media, such as paper, textile filter fabric, needle felt, membrane filter cloth, wire mesh and sintered metal. The filtering plate base is positioned horizontally, which makes washing or further treatment of the filter cake very easy. On request, the Nutsche may be equipped with a mixer for continuous or re-suspension of solids
Features:
The conical shape at both ends enables uniform mixing and easy discharge

Easy loading and unloading

Minimal maintenance

Constructed of 316 stainless, 304 stainless and carbon steel

Capacity - 10 Ltr. to 5000 Ltr.

Address: VILAS ENGINEERING WORKS
Unit no. 4, Shreenath Industrial Estate, Mahakali Caves Road,
Andheri (E), Mumbai, INDIA 400093
Tel: +91-22-28216784


Strip Packing Machinery | Tablet Inspection | Packing Conveyor | Blister Packing Machine | Planetary Mixer | Rapid Mixer Granulator | Mass Mixer | Drum Blender | Octagonal Blender | Double Cone Blender | V Blender | Multi Mill | Vibro Sifter | Coating Pan | Reactor | V Cone Mixer | Condenser / Heat Exchanger | Sigma Mixer | Ribbon blender | Sugar Manufacturing Tank | Jacketed Tank | Storage Tank | High Speed Homogenizer | Fluid Bed Dryer | Vacuum Shelf Dryer | Tray Dryer | Ointment Plant with Inline Homogenizer | Planetary Mixer VJHSE | Nutsche Filter