Vilas Engineering represents a business enterprise with strong commitment, foresight, technical expertise and on-time delivery. Our promoters have spent more than 3 decades in the pharmaceutical industry, which had helped Vilas Engineering carve an edge in this competitive pharma / biotech industry. We have successfully manufactured and supplied Packing Conveyor for various pharmaceutical companies.
PACKING CONVEYOR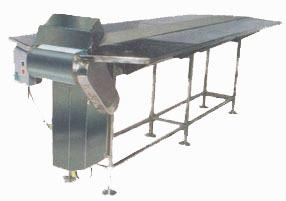 Size: 4500 mm length X 830 mm width X 760 mm Height
Drive consists of 1HP/3 phase/415 V motor and suitable reduction gen. box.
Table: Made out of SS pipe and SS drive rollers and also provided leveling bolts. SS 304 quality top sheet 4500 mm length X 300 mm Width both side of conveyors.
Belt: PVC food grade endless belt 225 mm width X 4500 mm travel length.
Speed: provided with 2 speeds minimum will be 6 mtrs/min.
Control: Operated by dual starter.
Address: VILAS ENGINEERING WORKS
Unit no. 4, Shreenath Industrial Estate, Mahakali Caves Road,
Andheri (E), Mumbai, INDIA 400093
Tel: +91-22-28216784


Strip Packing Machinery | Tablet Inspection | Packing Conveyor | Blister Packing Machine | Planetary Mixer | Rapid Mixer Granulator | Mass Mixer | Drum Blender | Octagonal Blender | Double Cone Blender | V Blender | Multi Mill | Vibro Sifter | Coating Pan | Reactor | V Cone Mixer | Condenser / Heat Exchanger | Sigma Mixer | Ribbon blender | Sugar Manufacturing Tank | Jacketed Tank | Storage Tank | High Speed Homogenizer | Fluid Bed Dryer | Vacuum Shelf Dryer | Tray Dryer | Ointment Plant with Inline Homogenizer | Planetary Mixer VJHSE | Nutsche Filter