Vilas Engineering represents a business enterprise with strong commitment, foresight, technical expertise and on-time delivery. Our promoters have spent more than 3 decades in the pharmaceutical industry, which had helped Vilas Engineering carve an edge in this competitive pharma / biotech industry. We have successfully manufactured and supplied V Cone Mixer for various pharmaceutical companies.
V CONE MIXER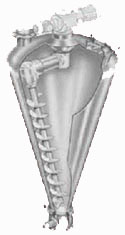 V-Cone mixers are useful in Pharmaceuticals, Cosmetics, Chemical, Food and other industries.
Products which are friable, shear sensitive, voluminous can be easily blended by V-cone mixer. The large handling capacity coupled with low power requirement makes it one of most effective and efficient Blender. It occupies less floor-space and it is ideally suited to multi-storey facilities.

Working principle
A combination of three mixing effects is produced - The mixing screw rotates about its own axis and it also rotates around the periphery of the cone continuously. First the screw lifts the product from the bottom to the top of the vessel and then the movement of the arm makes the product to move across the cone's periphery. Combining these effects with gravity produces excellent mixing effect.


Special Features of V-Cone Mixer -
Constructed in SS 304, SS 316, MS
Discharge through Butterfly Valve, motorized valves etc.
Capacity - 5000 Ltr. to 25,000 Ltr.
Applications - Excellent for Chemicals, Bulk Drugs
Address: VILAS ENGINEERING WORKS
Unit no. 4, Shreenath Industrial Estate, Mahakali Caves Road,
Andheri (E), Mumbai, INDIA 400093
Tel: +91-22-28216784


Strip Packing Machinery | Tablet Inspection | Packing Conveyor | Blister Packing Machine | Planetary Mixer | Rapid Mixer Granulator | Mass Mixer | Drum Blender | Octagonal Blender | Double Cone Blender | V Blender | Multi Mill | Vibro Sifter | Coating Pan | Reactor | V Cone Mixer | Condenser / Heat Exchanger | Sigma Mixer | Ribbon blender | Sugar Manufacturing Tank | Jacketed Tank | Storage Tank | High Speed Homogenizer | Fluid Bed Dryer | Vacuum Shelf Dryer | Tray Dryer | Ointment Plant with Inline Homogenizer | Planetary Mixer VJHSE | Nutsche Filter