Vilas Engineering represents a business enterprise with strong commitment, foresight, technical expertise and on-time delivery. Our promoters have spent more than 3 decades in the pharmaceutical industry, which had helped Vilas Engineering carve an edge in this competitive pharma / biotech industry. We have successfully manufactured and supplied Ointment Plant Homogenizer for various pharmaceutical companies.
Ointment Plant Homogenizer
Ointment Plants are particularly used for Ointment, Cream, Lotion, Syrups etc.

Ointment Plant mainly consists of following equipments -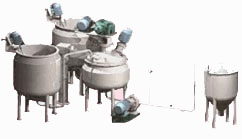 1. Manufacturing Vessel - Along with Baffles & Jacket Main Agitator Anchor type with Teflon scrapers Hydraulic Lifting Arrangement Inline Homogenizer.
2. Wax & Water Phase Vessel Baffles Jacket
Agitator Propeller Type
Storage Tank
3. Working Platform - Dimpled Sheet.
4. Pipelines -
Water Phase & Wax phase vessels are connected to the Main manufacturing vessel through individual pipelines. Inline conical filters are provided after each vessel bottom outlet.
Finished products are pumped out from the manufacturing vessel, through a third line by a lobe pump, into the storage tank. This line also has an inline conical filter. The storage tank bottom outlet is connected to a metering pump. All connections like bends, tees, valves, inline sight glasses are of Triclover / Din Standards.
5. Bump pump for ointment transfer and Dosing pump for feeding ointment to vessels.

Address: VILAS ENGINEERING WORKS
Unit no. 4, Shreenath Industrial Estate, Mahakali Caves Road,
Andheri (E), Mumbai, INDIA 400093
Tel: +91-22-28216784


Strip Packing Machinery | Tablet Inspection | Packing Conveyor | Blister Packing Machine | Planetary Mixer | Rapid Mixer Granulator | Mass Mixer | Drum Blender | Octagonal Blender | Double Cone Blender | V Blender | Multi Mill | Vibro Sifter | Coating Pan | Reactor | V Cone Mixer | Condenser / Heat Exchanger | Sigma Mixer | Ribbon blender | Sugar Manufacturing Tank | Jacketed Tank | Storage Tank | High Speed Homogenizer | Fluid Bed Dryer | Vacuum Shelf Dryer | Tray Dryer | Ointment Plant with Inline Homogenizer | Planetary Mixer VJHSE | Nutsche Filter